'The Hexagram on Grace' art edition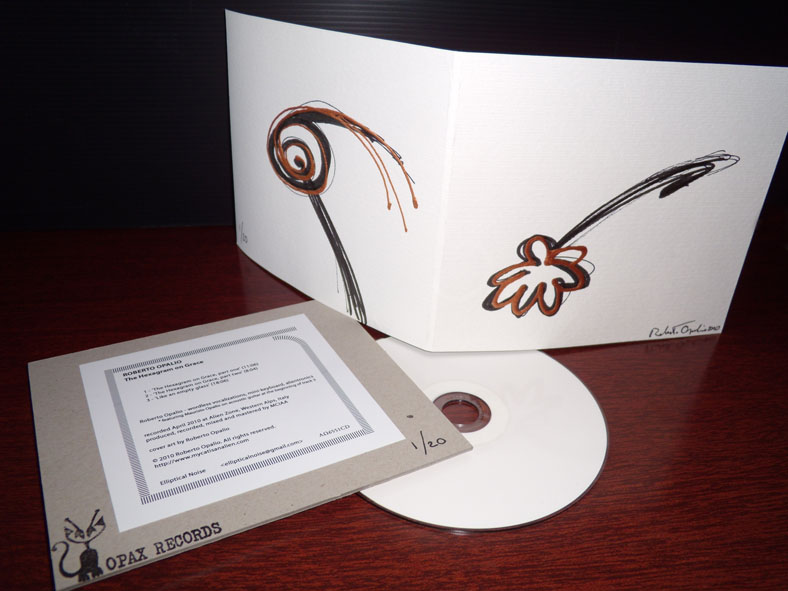 ROBERTO OPALIO - 'The Hexagram on Grace'
2010 - CD (Opax Records / Elliptical Noise)
***CD PRIVATE PRESS ART EDITION LTD.20***
Special limited art edition of 20 copies of the cd issued by Elliptical Noise. Same disc in nice-textured cardboard gatefold sleeve with original ink drawings by Roberto Opalio on front and back; numbered and signed by the artist. With insert.
"Third soloist album by Roberto Opalio (My Cat Is An Alien, Painting Petals On Planet Ghost, Praxinoscope). During the same period of self isolation in the Westrn Alps that brought to life MCIAA's 'Photoelectric Season' double album, Roberto conceived the creation of his new full-lenght album, inspired by the mystic aura of the nature surrounding himself. Focusing himself on his peculiar wordless vocalizations, and using simply a mini-keyboard and his prepared 'alientronics' as instruments, Roberto has built soundscapes of sublime abstract expressionism around the 'heliocentricity' of his voice. This is a true 'hexagram on grace' indeed.
Roberto Opalio: vocals, mini-keyboard, alientronix. Featuring Maurizio Opalio on acoustic guitar at the beginning of 'Like an empty glass'"