paintings

photos

drawings

installations

sculptures

films / videos

exhibitions/
publications
________

Roberto Opalio
biography

Maurizio Opalio
biography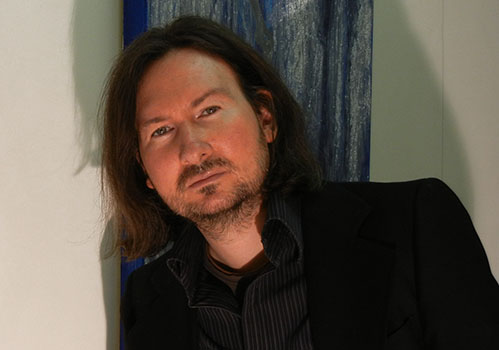 Roberto Opalio is a sound and visual artist from Torino, Italy, now living in a remote region of the Western Alps.

Self-taught, outsider artist, his work includes painting, drawing, photography, sculpture, poetry, film/videos, audiovisual installation, and live performance.

Since 1997, in duo with his brother Maurizio, he runs the musical project My Cat Is An Alien, for which Roberto created the band's "alien cat" logo, and has always been curating the artworks of all of their records. My Cat Is An Alien play a relevant role within the international avant-garde and experimental music scene, as The Wire magazine's cover dedicated to them shows.

In the last years the collaboration between the two brothers developed more and more in the field of visual art as well.

The artist's creative act comes through a proper ritual, whose process originates, develops and is achieved like an act of violent determination, where both a strong intellectual awareness and the pure unawareness of the fortuitous moment melt in a clash / crash which is performed around an action in real-time.

In visual art, from paintings to photography and videos, Roberto Opalio's takes elements of highly physical, terrestrial nature (glass and crystal fragments, wax, rocks, bark and branches, iron wire, etc.) and elevate their essence to pure cosmic matter, thus returning them to the atemporal dimension of the Spheres.
The main feature of most of Roberto Opalio's paintings and drawings is his own Alien icon. A stick figure with extended arms and legs, its head is represented by a single, big elliptical eye, permanently wide-open and staring out at the universe that surrounds it.

The artist prefers the use of analog and obsolete means, supports and materials, such as expired polaroid instantaneous films, slides and b/w films, 8mm and super8 reels, handmade phonograph records, in an ongoing research of new experimental languages.

In the last few years Roberto Opalio has performed his videos and specific audiovisual installations in various arts & music spaces and festivals in Italy and Europe, including the Sage Gateshead Newcastle and CCA Center of Contemporary Arts Glasgow (UK), La Casa Encendida Madrid, Victoria Hall Geneve and Fri-son Freiburg (CH), Les Instants Chavirès Paris, Galeria Ze' dos Bois Lisbon, Torino BIG Biannual of Young Artists 2000, Interzona Verona, Init and Rialto S.Ambrogio Roma, Zo' Catania in Italy; group exhibition at Promotrice Delle Belle Arti Torino, as well as many private audio visual solo performances in secret non-art locations of the Western Alps.

Roberto Opalio's drawings and poetry works have been published in journals worldwide, including Thurston Moore's Ecstatic Peace Poetry Journal, Thee Flat Bike and Dream Magazine in USA, Cocktail Molotov Journal in Brazil, The Sound Projector in UK, Sloow Tapes' My Favourite Magazine in Belgium among others.

In 2005 Roberto Opalio was invited to contribute an original painting for one of The Wire magazine's exclusive limited art t-shirts.

From October 19th to November 11th 2007 Roberto Opalio's 'Frammenti Cosmici' first solo exhibition took place at gallery space Zuni in Ferrara, Italy, presenting several new paintings and drawings, photos, installations, and an opening audiovisual live performance; recommended event by The Wire.

In 2008 he was commissioned an exclusive artwork illustration by Studio Voice multi-media magazine, Tokyo, Japan.

In February 2008, Roberto Opalio's dual film 'Light_Earth_Blue_Silver', with soundtrack by My Cat Is An Alien, has been published in DVD format by Atavistic Worldwide (USA), and presented at Netwerk Center for Contemporary Art in Aalst (Belgium) in March 2009, and at NETMAGE.10 International Live-Media Festival in Bologna (Italy), January 2010.

From 2008 to 2010 Roberto Opalio participated to SONIC YOUTH etc.: SENSATIONAL FIX touring group exhibition, featuring works by Christian Marclay, Richard Prince, Mike Kelley, Gerhard Richter, Isa Genzken, Dan Graham, Matt Groening, Vito Acconci, George Maciunas, Paul McCarthy, Cameron Jamie, Ed Ruscha, Gus Van Sant, Raymond Pettybon,John Cage, William S. Burroughs, Robert Smithson, Christopher Wool, Jonas Mekas, to name a few.

The exhibition, curated by Roland Groenenboom, was presented in several European museums of contemporary art: LiFE, St. Nazaire (France), Museion, Bolzano (Italy), Kunsthalle Dusseldorf (Germany), CA2M Madrid (Spain),
Malmo Konsthall (Sweden).

Roberto Opalio contributed '#6' of his "Alien Guitar Case Series" mixed media installation, and his film 'Alien Blood' with soundtrack by My Cat Is An Alien. Both works are published in the official catalog of the exhibition (Walter Konig), winner of the first prize of 2008 competition organised by L'Arbre à Lettres, Paris.

Two artwork illustrations by Roberto Opalio in collaboration with his brother Maurizio are published in the compendium catalog SENSATIONAL FIX ZINE #2 'NOISE', featuring contributions by selected artists participating to the exhibition SONIC YOUTH etc: SENSATIONAL FIX. Among these artists: Marco Fusinato, Marnie Weber,
Kim Gordon, Christian Marclay.

In December 2009 Roberto Opalio took part to ART'AMBIENTE LIGHT & RECYCLE group exhibition at Spazio Etoile, Rome, presenting two works: 'Alien Guitar Case #3' and 'Tear in the Void', published in the official exhibition catalog.